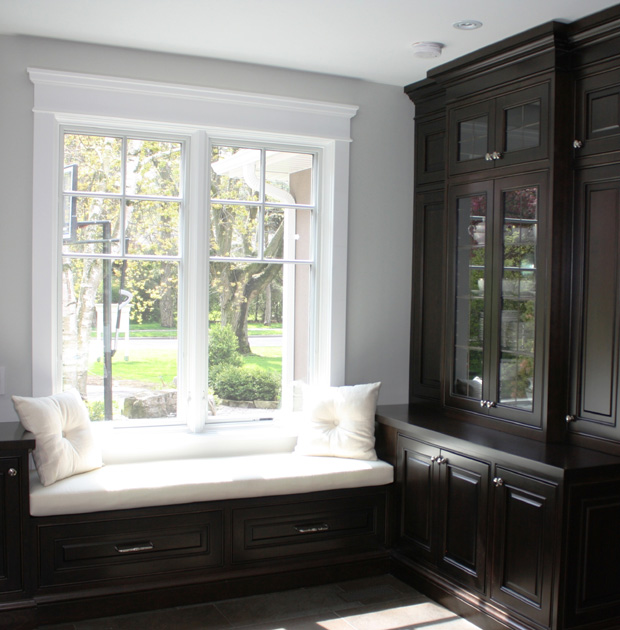 FULL SUITE OF SERVICES
At Gravelle Woodworking Ltd., through our full suite of services, we turn your home improvement dreams into a reality. Our Burlington team of interior designers and craftsmen create beautiful custom kitchen cabinets, tailored bathroom vanities, one-of-a-kind entertainment centres and so much more.
If you don't know exactly what you want, we'll help. We can develop or suggest ideas, recommend enhancements, explain processes, plan and execute your project. With over 25 years of experience, we focus on creating high quality, locally made cabinetry to add value to your home.
What is the Design Centre?
Our Gravelle Woodworking design centre consists of trained, educated, and experienced in-house designers and craftsmen. These individuals are dedicated to innovation and quality. They use the latest in design, technology, materials, and building methods throughout the entire creation process.
We couple creativity with craft to offer endless possibilities throughout your home, including the following areas:
Kitchen
Bathroom
Mud room
Office
Recreation room
Walk-in closet
Living room
Fireplace
Bar
Whether you need more space for organization in your walk-in closet, a made-to-fit entertainment centre, or custom bookshelves for your home library, we have the vision, tools and skill to make it possible.
How Does the Process Work?
At Gravelle Woodworking, we are equipped to handle every step of your custom cabinetry project. First, you will meet with one of our experienced designers to discuss and layout your concept. We will guide you through the process of selecting the right materials and finishes to achieve the look you desire while ensuring your budget is in check.
After completing your design, our skilled craftsmen set to work to bring your concept to life. They custom build your cabinets using the finest materials, tools and construction methods. Our production team is dedicated to creating exceptional products that stand the test of time — both in form and function.
At Gravelle Woodworking we take the installation of your project very seriously. That's why we developed an in-house team of specially trained installers who take great pride in the fit and finish of your project. Their strength lies in their attention to detail, taking great care to set your project into place efficiently with minimal interruption.
While we are building your dream kitchen, site preparation is critical to the success of your overall project. Clients have told us that finding the right contractor can be confusing, difficult and time consuming. To help, we have a short list of trusted contractors that we work with on a regular basis. We are confident they will deliver quality work for a fair price.
Uncompromised Quality, Exceptional Service, Always Beautiful
We understand the stress some homeowners feel during renovation. We'll help alleviate that stress with our attention to every detail of your project. Don't wait to take advantage of our custom cabinetry and bathroom vanities in Burlington. Contact us at 905.632.1056 to speak with one of our designers.
We look forward to working with you and can't wait to turn your design dreams into a reality.