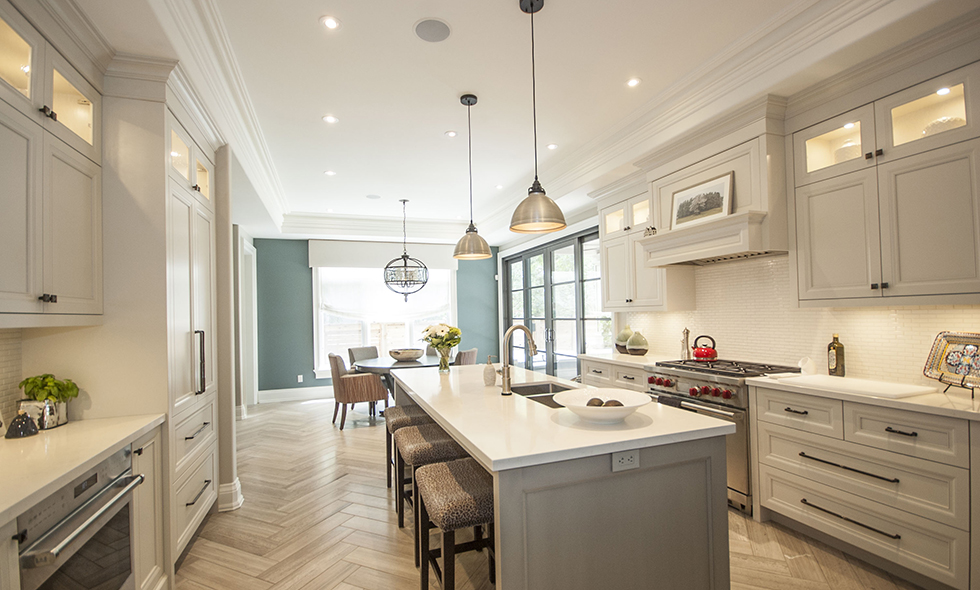 When it comes to remodeling your kitchen, there is so much to take into consideration. The kitchen is the heart of the home. It's where you make food for family and friends. It's where you entertain guests. It's where traditions are passed down. It's an important space — the hub of your home.
A kitchen needs to be both practical, to meet your daily needs, and welcoming. You spend a lot of time in the kitchen, so you should enjoy being in that space.
In this blog, we explore two major components of the kitchen remodelling process: The design and how to survive the construction.
Designing your perfect kitchen
Design Research
This is the fun part. Browse Instagram and Pinterest and other go-to blogs for all your kitchen renovation inspiration! Sharing these inspirational photos with your kitchen designer gives insight into your personal style. This will help your designer point out trends that appeal to you.
You should also plan a visit to the appliance store and compile a wish list. But make sure not to purchase any new appliances until your designer has confirmed those appliances will fit into your space.
Did you know?
The new standard sizes for common kitchen appliances are 36" Ranges or choose a 36" cooktop with a wall oven, counter depth fridges measuring at 36" wide are the new normal. These aren't required but a lot of clients are making these selections.
Ask questions
It's important to understand that there are varying qualities of cabinetry, countertops, and service.
Visit a few showrooms to get a feel for what is offered. And we encourage you to ask questions:
What is the cabinet box construction made of?

And what is the thickness of the material?

What are the drawers made of?
How are the drawers constructed?
What is the drawer and slide hardware that's used? Do they have an integrated soft close and are they warrantied for life?
What are the finish and colour options?

Hand finishes (custom)
Line sprayed (mass production)
Thermofoil (vinyl, plastic on MDF — the least durable)

What accessories are offered? (e.g. pullout triple recycle, charging drawer, pull out spice and oil, etc.)
What is their average cost of cabinetry and countertops per linear foot?
The company you choose for your kitchen renovation should be able to answer these questions fairly quickly and easily. Reputable cabinet makers want to be transparent and their customers to be knowledgeable so that they are aware of the value they are getting.
Set a budget
It is difficult to set a budget if you've never renovated before. We highly recommend doing your research so you understand what is realistic.
Part of setting a realistic budget is to ensure that you plan for unexpected costs. We also encourage you to talk with people who've done business with the company you choose to work with. This includes contractors. Find out if the project came in on time and on budget.
With respect to the budget, "A good rule of thumb is to add another 10 to 20 per cent for unplanned expenses," writes the home inspiration blog, The Spruce.
Needs vs Wants
This is when you (and any other decision makers) have to be honest — especially if your research led to some extravagant designs with big price tags.
Perhaps you realize that custom woodworking is a more value added feature than having an integrated fridge. This is the time to set those parameters.
Survive the construction
What to expect
A typical kitchen renovation lasts from five to eight weeks depending on the scope of the renovation.
The tear out, plumbing, electrical, drywalling, painting, and floor install typically take up the first two weeks.
Then, for four or five days, the custom kitchen installation will occur. Countertop installation, from templating to install, typically takes around two weeks.
The final portion of most kitchen renovations would be adding the backsplash, installing appliances, hooking up the plumbing, and adding any finishing touches.
Set up a temporary kitchen
Locate a space in your home (away from the renovation area) where you have access to water: either a laundry room or a wet bar will suffice. Set up a microwave or a small cooktop to try and maintain your mealtime routines. Make sure your BBQ is easily accessible from the house to use as your cooking centre.
Make meals ahead of time
Depending on how long your project is slated to take, it might help to make large batches of food prior to the renovation. This is especially true for homes with a single kitchen or homes with children.
Cordon off living spaces that aren't being renovated
New cabinets in your kitchen shouldn't result in sawdust in your bedroom. While the experts at Gravelle go above and beyond to ensure that your home will remain as clean as possible, it's still advisable to use plastic sheets to curtain off rooms of your home that are not being renovated.
Have a backup plan (or go on vacation!)
Do you have family nearby that can offer you a bedroom or two? Do you have a cottage you can live at for a while? Maybe there's a vacation destination you've been itching to go to with your family?!
If you have the ability to leave your home while your kitchen is being remodelled, do it! Not only is this an opportunity to get away for a bit, but not living in the middle of a renovation will make your life easier.
Even if you can leave for the first 2 weeks of the project it would be helpful as the dustiest part of the job is tear out and drywalling.
If there's a final piece of advice we have for you, it's to relax. When you hire professionals like Gravelle, you can rest assured knowing that you're working with a company with 35+ years of experience and a 5.0 rating on Houzz, a 4.9 rating on Google, and a 4.7 rating on Facebook.
We know our stuff, and we're committed to getting you the kitchen woodworking that you want and deserve. To find out more, get in touch.